Fully Charged Live 2018
Some of what you missed at Silverstone

June 9th and 10th 2018 marked a definitive moment in the electric vehicle revolution. Robert Llewellyn and Jonny Smith hosted the inaugural Fully Charged Live, an electric vehicle exhibition and conference, in the Wing of the Silverstone racing circuit. Whilst most EV showcases tend to attract audiences numbering in the hundreds, Fully Charged Live exceeded all expectations, with 6,000 attendees ensuring that the event had outgrown its venue by lunchtime on the first day. Such was demand that the Renault and Tesla owners clubs summoned 60 electric taxis to help the double decker buses transfer attendees from the car park to the Wing, where visitors were greeted by a line-up of every pure EV available to buy in the UK today.
Each of the two vast exhibition halls featured stalls for utility companies, EV dealers, universities, charge point manufacturers, and green tech innovators and installers. Robert, Jonny and new host Helen Czerski juggled a series of riveting panel sessions featuring some of the biggest names in the EV world, including Dale Vince of Ecotricity, Jonathan Porterfield of Eco Cars, Jordan Brompton of MyEnergi, Tom Callow of Chargemaster and Nikki Gordon Bloomfield of Transport Evolved. It was standing room only, with people spilling out into the exhibition. Such was the popularity of the talks that they were broadcast in the adjacent hall. With talks in full swing, the stalls were still abuzz with lively conversation as individuals and businesses looked to find out more about how to save money, improve their self-sufficiency and reduce their carbon footprint. Representatives from businesses that hadn't booked stalls at the event looked on at the opportunity missed.
Down in the pits, visitors were treated to some of the finest bespoke electric automotive engineering in the country. QWest's Tesla Shooting Brake, the ICE to EV retrofits from EV engineers extraordinaire Kevin Sharpe (Iron Mill Hydro), Chris Hazell (Zero EV) and Richard Morgan (Electric Classic Cars). Examples of classic vehicles included a dinky Fiat 500, an original Range Rover which can now do steep hill descent using regenerative braking alone, and a VW camper van with AC DC rapid charging. The standard of engineering on
display was second to none, so it was no surprise that the engineers responsible were constantly swarmed. A notable absentee was Tesla Ted, the labradoodle responsible for the Tesla Shooting Brake's existence. A bit of trivia: the last time I saw Tesla Ted, he shared a bacon roll with Richard Morgan and spat out the Quorn sausage that I offered him.
The paddock featured a host of customised EVs, including Plug In Adventures ATEV, the eRally Renault Zoe, Kevin Smith's e-NV200camper van and the Sunamp heat battery refrigerated electric van.
The EV glitterati were out in force at the event, with the Eco Cars stand quickly becoming their hub. YouTube and Twitter stars, as well as EV ambassadors frequented the stalls including James and Kate, The Plugseeker, She's Electric (El's Electric Dream), Lemon-Tea Leaf and Beth Lily. Apparently there was an auburn-haired Scottish battery guru in the mix as well, but I never saw him. At one point they were all joined by Danny-John Jules, AKA Cat from Red Dwarf; he's on the lookout for a customised Renault Twizy.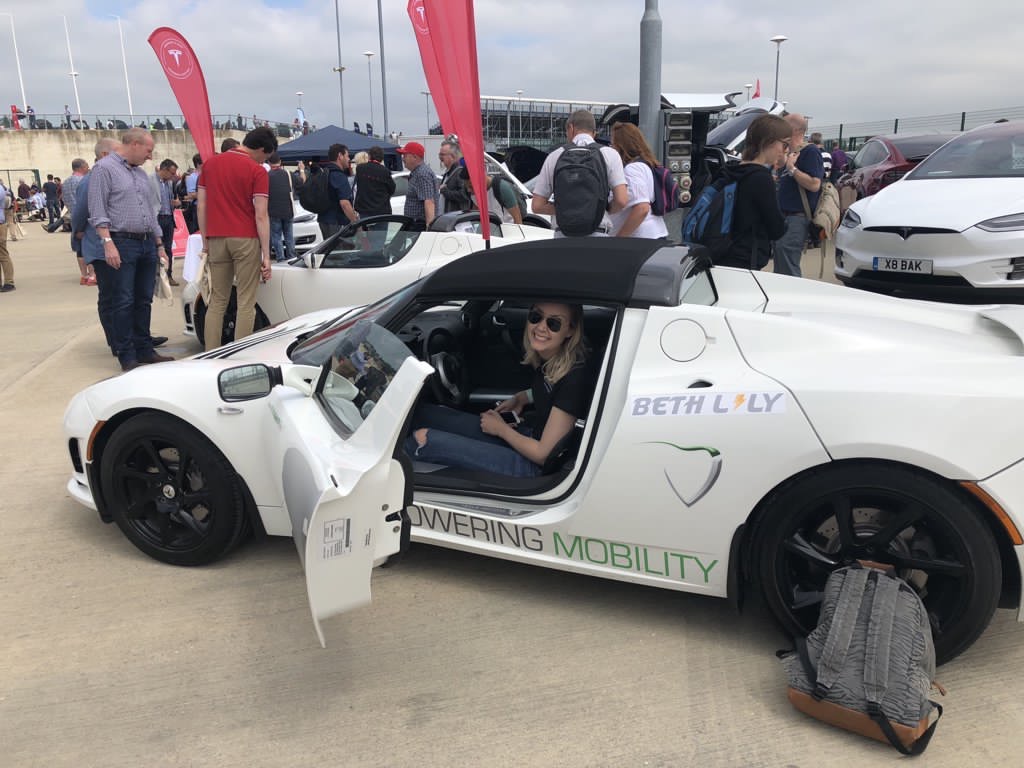 The number of EVs in the visitor car park took many people by surprise, offering a glimpse of what a typical car park will look like in Scotland in five years' time (or in Norway today). However, in a surprise twist, when one of the panelists asked how many people in the audience didn't own an EV, the vast majority raised their hands. It quickly became clear that this event was no EV enthusiast backslapping exercise, and that the #BringAPetrolHead social media campaign had paid off in full. Here were a large number of EV novices, keen to learn more before taking the plunge and no doubt some die-hard sceptics whose opinions may yet be changed. The atmosphere throughout the weekend was absolutely buzzing, and many excellent points were raised about the unparalleled economics and practicality of driving electric. It is fair to say that an overwhelming majority of the audience will now be on the hunt for their own EV after what transpired to be a highly informative and enjoyable fact filled event.
The resounding success of Fully Charged Live was achieved against the odds, with only a few months to organise absolutely everything and next to zero marketing budget to get the word out. Director Dan Caesar and Creative Director InkSharkman (Mark) pulled off a complete masterpiece, taking the standard for EV events and smashing it out of the park on their first attempt. Congratulations to everyone – hosts, organisers, exhibitors, volunteers and attendees – who made it a thoroughly enjoyable weekend. If this is what they can cobble together in a panic, just imagine how epic the 2019 event will be.
Fully Charged Live is here to stay, and it's only going to get bigger and better.